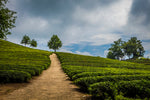 Since day one, Marais Tea Company has been committed to taking the finest leaves from across the globe and transforming them into exceptional tea experiences.
Exotic and wholesome, every Marais Tea Company experience starts with fine teas or pure herbs. We add only quality elements to craft our blends and infusions so that each flavour is intrinsic and distinguished.
Each tea has a story to tell. From tea's origins in Ancient China to its global prominence during the British Empire, tea is integral to the human story. Each cup of Marais Tea Company tea is fashioned to inspire every day with an exotic tale.
An Exotic Marketplace
Marais Tea Company passionately crafts a selection of exceptionally fine teas.
In a modern world of globalization, we strive to bring the romantic and exotic past back into focus. Exploring the exotic markets and harbours of the world, we transform the highest quality ingredients into the richest aromas and the most exquisite tea experiences.
But there's more to our story. The Marais Tea Company experience is about more than just a taste of the exotic in every irresistible sip. It's about immersing yourself in the idyllic moment inspired by each flavour. Every ingredient conveys the character of its origin in every cup. Whether shared or sole, when you sit back and embrace the adventure in one of these moments - that's our exotic marketplace experience.